QR Credential Generator V2
Generates Credentials based on the mailed QR code: easy distribution of Access tokens

Supports printing compatible Visitor QR Codes through C•CURE ID Badge Layout on V2.90+

Secure your site perimeter more efficiently by limiting public access

Provide access to car parks, perimeter gates, secured reception areas, etc.

Implement fast-lane registration or VIP reserved parking – accessible only to selected visitors

QR Credentials are only valid for a set period of time before and after the visit start and end time
With the release of C·CURE 9000 V2.60 SP1, Software House released the Visitor Management Phase III which supports the following:
QR code identification for visitors registering for a visit
QR codes are sent to visitors by email after registration, used for visitor identification
The QR Credential Generator module for C·CURE 9000 (QRCG) is a service that will auto generate credentials for visitors that receive a QR code by email. This allows visitors to use their QR code as a credential on designated locations.
For example, to provide access or exit permissions to VIP parking places, perimeter gates or access to the main building reception area while keeping this perimeter closed for non-registered people.
This means you can close down your site perimeters with Access Control while allowing access to pre-registered visitors through the use of their QR code. This creates a more secured and better controlled site perimeter.
The QRCG service allows for easy access token distribution by turning the QR code into an Access token that is sent by e-mail.
C•CURE 9000 version V2.60 SP1 or higher
Visitor Management license option
C•CURE 9000 Web Portal installed
Easier configuration with the new client app, including database configuration with autodetection functionality, and help information on specific settings: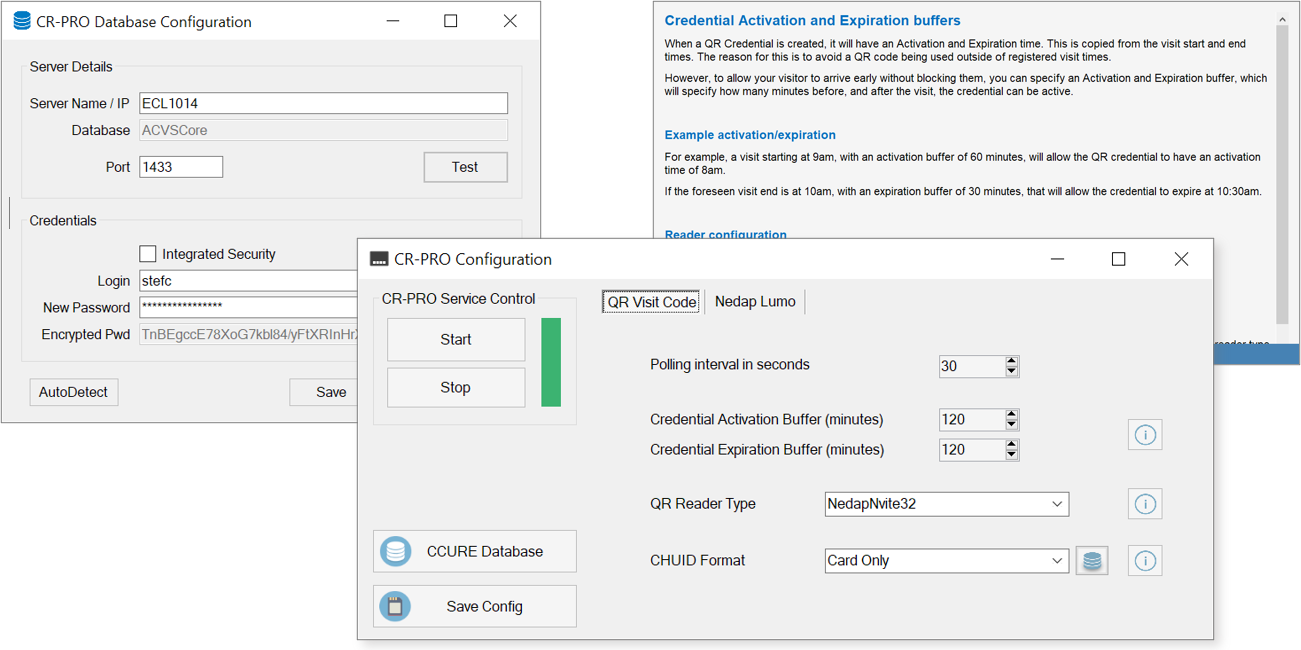 Nedap MACE and NVITE readers
IBC QScan Mini (using custom developed C•CURE firmware)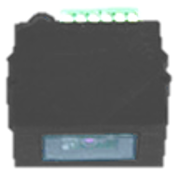 Windows Server 2019 Standard & Enterprise (64-bit)
Windows Server 2016 Standard & Enterprise (64-bit)
Windows Server 2012 R2 SP1 or later (64-bit)
Windows 10 Professional & Enterprise (64-bit)
CR-PRO V2 Release Highlights
Installation:
Auto-detection and configuration of the database settings when installed on the CCURE Server
Added Start menu shortcuts to easily launch the Password encryption and baretail log monitoring tools
Configuration:
Addition of a graphical client for easy configuration of the different software modules
Help snippets can be directly displayed that provide info on individual settings
Easily Start/Stop the service directly from the UI
Auto-preparation of import directories based on detected licenses
Support for UDF Fields for license plates
Troubleshooting:
Added Baretail by default int the installation package for easy troubleshooting
Includes pre-configured journal monitoring colour scheme
Complete new licensing system:
Delivery of temporary licenses valid for 3 months
Register online for your full license: no HostID required, can be done before installation on the customer site
Support for demo/evaluation licenses
And other technical improvements/optimizations.